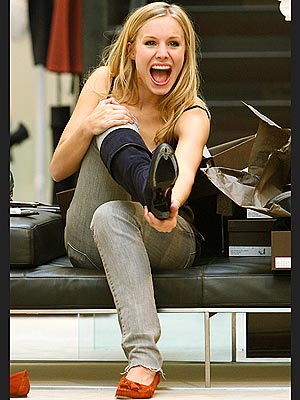 Kristen Bell interview from Scifi.com
Kristen Bell, who will join the cast of NBC's Heroes in the Oct. 22 episode, told reporters that her character, Elle, is duplicitous, manipulative and just "a little off." Speaking in a conference call with reporters, Bell declined to divulge Elle's super power, but hinted that the character arrives with a link to several others, most notably Peter Petrelli (Milo Ventimiglia), whom she encounters in Ireland.
"I have been crossing my fingers in hopes that I would get a job soon where I could play someone who was, as [creator] Tim [Kring] likes to call it, 'a little off,' or perhaps didn't have the brightest and shiniest of intentions," Bell said. (She spoke along with Kring, the show's executive producer.) "And I think the depths at which they've written Elle, this character, she's so conflicted and sort of comes across as such a victim. It's so much fun to play with." Bell, who gained fame in the title role of The CW's Veronica Mars, is one of several new characters introduced in Heroes' second season.
As for Elle's interactions with the other characters, Bell said, "I have a lot of information about Peter's past. ... " Kring added: "We introduce the character, and she is looking for Peter Petrelli. So I think one can assume that she finds him." Asked if she could reveal anything more about Elle's power or the character's relationships with the show's familiar faces, Bell replied, "I can't reveal her secret power. You'll have to watch next Monday. But it's a very cool power. She has ties to H.R.G. [Jack Coleman] and Claire [Hayden Panettiere], and I think there's going to be a very interesting dynamic, I think, between her and Claire as far as what is and what is not. I think there's going to be a deeper relationship there than people are expecting.
Or they're going to see maybe some parallels. She also has ties, a little bit, to Suresh [Sendhil Ramamurthy]." Bell's first episode, "Fight or Flight," airs Oct. 22 at 9 p.m. ET/PT. (NBC is owned by NBC Universal, which also owns SCIFI.COM.) —Ian Spelling